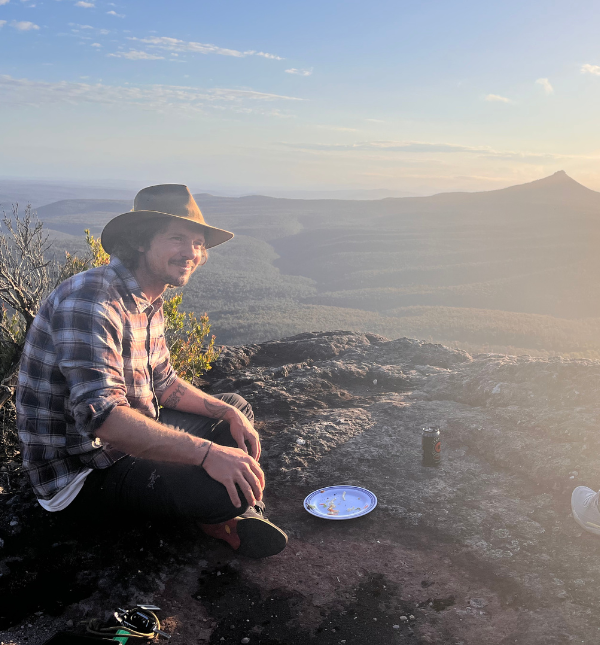 Chris Zinon
-Head Guide, Trek Yuin Country
Over the last twenty years Chris has explored the world, working and pursuing his passion for outdoor adventure, specifically climbing, hiking, snowboarding and surfing.
These activities have taken him to some of the more remote corners of the globe, providing natural rewards that are truly unforgettable, and are the reasons why he loves to share these incredible experiences with others.
Chris has worked in the outdoor industry for 15 years and holds qualifications from the Australian Climbers Instructors Association, The British Mountaineering Council, Avalanche Canada as well as holding current wilderness and advanced first aid certificates.
Fun facts
Favourite country: Chile
Favourite food/cuisine: Thai food
Favourite quote: 
There is a pleasure in the pathless woods,
There is a rapture on the lonely shore,
There is society, where none intrudes,
By the deep Sea, and music in its roar:
I love not Man the less, but Nature more.
Best travel experience: Hiking through Patagonian wilderness
Jacqui Swift
-Fundraising Specialist 
Jacqui started her career working for a digital marketing agency in Singapore and with South East Asia at her doorstep she fell in love with the vibrancy of the East and the discovery of travel.
Originally born in Perth, she realised how lucky she was and wanted to make a difference. Swapping the corporate world for fundraising, she now has 12 years of experience in the NFP sector raising money for international and local charities.
Her work and passion for travel has taken her to diverse locations around the world. From the golden pagodas of Myanmar to the sandy deserts and pristine coast line of some of the most remote communities in Western Australia, Jacqui has been privileged to work with philanthropists, individual fundraisers and giving circles, and truly believes that change can come about from the actions of a group of committed and caring individuals.
Fun facts
Favourite country: Philippines
Favourite food/cuisine: Italian, a simple bocconcini, tomato and basil salad with olive oil
Favourite quote: "Look deep into nature and you will understand everything better" – Albert Einstein
Best travel experience: Swimming with the Whale Sharks in the Philippines.