THE PHILANTHROPIC YOGI: HOW YOU CAN TRAVEL AND GIVE BACK
People practice yoga for different reasons. Some people practice to improve their flexibility, others practice to focus on being mindful and present. No matter why you take part in yoga, the spiritual heart of the practice is undeniable; the connection you feel to nature and the earth is palpable. Yoga can of course be practiced anywhere, yet many yogis find transcendent solace by practicing and learning in countries such as Indonesia or India, and for good reason. The natural beauty and spiritual foundations upon which these countries lie makes for an incredible yogic experience. We also know that many yogis love to travel in general, experiencing the countless countries and inspiring cultures that inhabit them.
That's why we developed a unique experience for all the travelling philanthropic yogis out there: a 12-day yoga experience in the heart of Bali (or a 7-day yoga tour for the time conscious traveller). Yet this incredible trip does not just stop at 12 blissful days of yoga in Bali. It also includes the opportunity to give back to the local Balinese people. Sound like your kind of yogi adventure?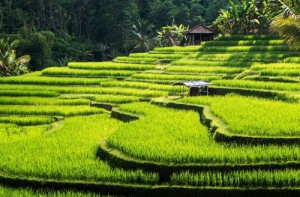 Fill your soul with the delicate culture and heritage of Bali as you experience this small and beautiful volcanic island. Sitting in the heart of the Indonesian archipelago, Bali offers yogi travellers a truly special experience as the home of Southeast Asia's only Hindu society. Under the guidance of a residential natural wellness and yoga coach, and island expert, yogis will experience a holistic and inspiring journey like no other. Not only will you get to practice yoga beneath swaying palm trees, you will also have the opportunity to learn more about Balinese culture. Cook a traditional meal, make a ritual floral offering and participate in a community based farming program. From visiting some of their most sacred sites to participating in their daily rituals, you will fall in love with the smiles, flavours and colours of Bali.
We're pretty sure nothing could make this a more magical or exciting trip for yogi lovers. But wait … we do know something that makes this experience even more incredible. By participating in this trip, you'll be helping the humanitarian work of the locally based R.O.L.E Foundation. Founded in 2007, R.O.L.E's aim is to improve the education, wellbeing and self-reliance of the local people while ensuring environmental resilience and sustainability. Bali's culture heritage and unique natural environment entices countless visitors from across the world each and every year. As Bali becomes increasingly modernised, it's now more important than ever to find sustainable solutions. That's why contributing to organisations like R.O.L.E is so important. Through multiple programs, R.O.L.E addresses local issues with a variety of programs and projects ranging from women's skills education to soap recycling and reforestation. The donation component of this trip goes towards funding a sponsorship package for a local female student through R.O.L.E's Women's Skills Education Program. Aimed at giving local women a helping hand in breaking the cycle of poverty, this education program offers a range of empowering courses from basic work and life skills to vocational training and small business development.
So for all you travelling yogis out there, now you know that it is possible to travel without leaving a negative footprint on the countries you visit. By taking part in philanthropic trips like this, you're not only experiencing the beauty of other cultures, but you're also helping support the Balinese people in maintain their way of life. Your time spent travelling in their village and your interest in their culture helps bring money to the community, supports local guides and artisans, and allows them to take pride in their traditions.