Educational Family Holidays Vietnam
Are you looking for ideas on how to spend the next School Holiday's? What about an educational experience exploring Vietnam! It's the perfect destination, boasting stunning landscapes, delicious Asian cuisine and outdoor adventure for the entire family. From the Old Quarter of Hanoi to the mystical limestone rock formations of Halong Bay, to the ancient trading port of Hoi An and and to the rice bowl of the Mekong Delta. We have listed our favourite places to give you a fresh taste of Vietnam.
Hanoi
Hanoi is a web of narrow streets, entangled cables, egg coffees and locals clashing fiery saucepans with promising contents. Between stores of local artwork, clothing, handmade accessories and household items, it's a city life is lived on the streets, locals crouch on plastic stools devouring noodles from carts, and store owners impatiently beckon tourists into their stores or motorcycle riders lying languidly upon the backs of bikes.
Take in your surrounds as you circle Hoan Kiem Lake. Indulge in treats at the hands of eager street vendors, Banh Mi sandwiches and rice paper rolls. Perfect the art of crossing the streets, and watch with bewilderment as the motorcycles piled with families of five, chickens, bags of groceries and cardboard boxes of wears seamlessly glide by. Tiptoe through dark corridors and peer between bars into the cells of the past at Hoa Long Prison, feel a sense of compassion and loss for the many Vietnamese who were tortured and imprisoned for fighting against the French colonial power during the 19th century..
Halong Bay
Cruise the emerald waters of Halong Bay, where mystical grand limestone formations in all shapes and sizes, transpire upon the horizon. This UNESCO World Heritage site is a five hundred million year old outdoor adventure playground for the entire family, spanning a total of 1,553 km² for activity such as hiking, rock-climbing, canoeing and cycling. Swim in the beaches, admire the stunning sunsets, night fish or venture into the mysterious unknown through one of the many  on-site caves.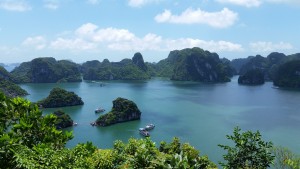 Cuc Phuong National Park
Hiking shoes, bug spray and binoculars are must-haves for the oldest national park in Vietnam. Join a community of naturalists and conservationists from all over the world to observe Cuc Phuong's diverse wildlife. Bird-watch the three-hundred documented species, visit the stilt homes of Muong traditional communities and breathe in the rich dense forest bordered by limestone mountains.
Hoi An
Along the East Coast of Vietnam, the sleepy beach town of Hoi An beckons tourists worldwide. The streets of Hoi An are free from the hustle and bustle of Hanoi, though promise the same quality of South-East Asian cuisine at every corner and vendor alike in the form of fried green sentinel crab cakes, banh xeo (crispy savoury crepes) or tom cha gio (shrimp spring rolls). The 15th century trading port turned beach town prides itself on its stunning architecture and tailor-made clothing stores, artworks and cafes. Rent a bicycle for the day and journey to An Bang Beach, eat lychees and swim in crystal clear waters or wander around the rainbow lit night markets and set off a glowing lantern on the Thu Bon River.
Ho Chi Minh
Enter the south of Vietnam, through the region's capital, Ho Chi Minh. A contemporary city playing a game of catch up with the modern world; and in it's furry, tearing down it's colonial past. Walk under towering mahogany trees as they cast shadows on its elderly practicing Tai Chi in urban parks. Wander by some of the most famous buildings in recent history as you bear witness to this bustling city. Step back in time as you wander through the building that has stood still in time. The 1960's art deco building called the  Reunification Palace housed some of the world's most famous memoirs, take a peek in the many colourful rooms and let history play out before your very eyes. Take a somber look through the War Remnants Museum, with an extensive collection of artefacts and personal accounts of those involved in the Vietnam War. Watch the city transform as the sun goes down, this city flaunts an extensive nightlife with everything from night markets to karaoke bars and the Saigon hi-so sipping on cocktails straight out of Manhattan whilst enjoying the colourful city lights from one of the city's rooftop bars
Mekong Delta
Only a short drive south yet miles from the hustle and bustle of city life, immersion yourself in a much slower pace of life. Known as the 'rice bowl' of Vietnam, this is home to the freshest of coconuts, the sweetest of fruit and tastiest sugar-cane you have ever enjoyed. Watch life happen, as trading boats exchange daily produce, industrial boats move their masses and their life on the water evolves before your eyes. Cycle through the small villages, stopping to enjoy fruits, listen to local Mekong music and taste some of the best coconut candy made by age long techniques.

Giving Back…
When you travel with Soulful Concepts, you'll be supporting 'Education for Nature- Vietnam (ENV), whose mission is to foster a greater understanding among the Vietnamese public about the need for nature and wildlife protection. ENV uses innovative strategies to influence public attitudes and works closely with government partners. The aim to support efforts in animal and environmental conservation on a regional and national level. Your participation in this tour will directly be funding the establishment of a local outpost to help protect the native turtle populations of Con Dao Island.
Article by Julia Carr-Catzel